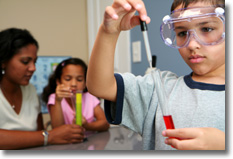 U.S. Department of Education has announced the highest-rated applicants for the 2014 Investing in Innovation (i3) competition. Of the 434 submissions received by ED, we are excited that both of the proposals for which we developed evaluation plans were among the 26 winners. Both of these proposals were THE highest rated in their respective categories!
In one, we'll be partnering with WestEd to evaluate the Making Sense of Science and Literacy program. Written as a validation proposal, this 5-year project will aim to strengthen teachers' content knowledge, transform classroom practices, and boost student achievement.
The other highest-rated application was a development proposal submitted by the Atlanta Neighborhood Charter Schools. In this 5-year project, we will assess its 3-year residency model on the effectiveness of early career teachers.
Both projects were bid under the "priority" for teacher effectiveness. We have a long standing partnership with WestEd on i3 evaluations and Regional Lab projects. This is our first project with Atlanta Neighborhood Charter Schools, and it builds on our educator effectiveness work and our ongoing partnerships with charter schools, including our evaluation of an i3 Development effort by Aspire Public Schools.
For more information on our evaluation services and our work on i3 projects, please visit our i3 page and/or contact Robin Means.