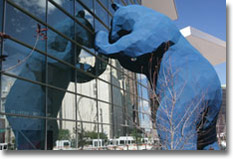 Empirical Education will be heading to the snow-capped mountains of Denver, Colorado next April! Once again, Empirical will have a strong showing at the 2010 American Educational Research Association conference, which will be held at the Colorado Convention Center on April 30 — May 4, 2010. Our presentations will span several divisions, including Learning & Instruction; Measurement & Research Methodology; and Research, Evaluation, & Assessment in Schools. Research topics will include:
Examining the Efficacy of a Sight-Word Reading Program for Students with Significant Cognitive Disabilities: Phase 2

Matched Pairs, ICCs and R-squared: Lessons from Several Effectiveness Trials in Education

Addressing Challenges of Within School Randomization

Measuring the Impact of a Math Program As It Is Rolled Out Over Several Years
In line with our past 2 years of successful AERA receptions, Empirical Education plans to host another "meet and greet" at this year's conference as well. Join our mailing list to receive the details.