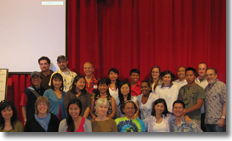 We are growing! Empirical Education is excited to announce a recent expansion in our company. Over the summer, we have had the pleasure of adding five new members to our team, rounding out our number to 30 total employees. The addition of four members to our research department is a vital step in beginning work on our new projects taking place during the 2009-2010 school year. The statistician joining our analysis team will work closely with the engineering team to help streamline our MeasureResults processes.
In addition to enriching our staff, we are also increasing our space. We acquired a third office unit in our Palo Alto building this summer, and we are busily readying it for a move-in. Meanwhile, we are remaining quite cozy in our two current offices.
We view this expansion as a glimpse of what the future will hold for our company, and we look forward to introducing you to some of our new faces. Feel free to stop by our office anytime for a guided tour.