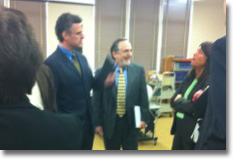 Above: Empirical Education President Denis Newman converses with Secretary Bonnie Reiss and author, Dr. Edward Burger
They're not contest winners, but today, dozens of lucky 8th grade Algebra 1 students enthusiastically received new iPad devices, as part of a pilot of the new technology.
California Secretary of Education Bonnie Reiss joined local officials, publishers, and researchers at Washington Middle School in Long Beach for the kick-off. Built around this pilot is a scientific study designed to test the effectiveness of a new iPad-delivered Algebra textbook. Over the course of the new school year, Empirical Education researchers will compare the effect of the interactive iPad-delivered textbook to that of its conventional paper counterpart.
The new Algebra I iPad Application is published by Houghton Mifflin Harcourt and features interactive lessons, videos, quizzes, problem solving, and more. While students have to flip pages in a traditional textbook to reveal answers and explanations, students using the iPad version will be able to view interactive explanations and study guides instantly by tapping on the screen. Researchers will be able to study data collected from usage logs to enhance their understanding of usage patterns.
Empirical Education is charged with conducting the study, which will incorporate the performance of over twelve hundred students from four school districts throughout California, including Long Beach, San Francisco, Riverside, and Fresno. Researchers will combine measures of math achievement and program implementation to estimate the new program's advantage while accounting for the effects of teacher differences and other influences on implementation and student achievement. Each participating teacher has one randomly selected class using the iPads while the other classes continue with the text version of the same material.
Though the researchers haven't come up with a way of dealing with jealousy from students who will not receive an iPad, they did come up with a fair way to choose the groups who would use the new high tech program. Classes who received iPads were determined by a random number generator.