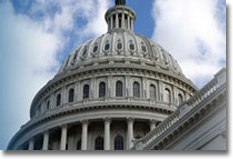 Springtime marks the start of "conference season" and Empirical Education has been busy attending and preparing for the various meetings and events. We are participating in five conferences (CoSN, SIIA, SREE, NCES-MIS, and AERA) and we hope to see some familiar faces in our travels. If you will be attending any of the following meetings, please give us a call. We'd love to schedule a time to speak with you.
CoSN
The Empirical team headed to the 2010 Consortium of School Networking conference in Washington, DC at the Omni Shoreham Hotel from February 28—March 3, 2010. We were joined by Eric Lehew, Executive Director of Learning Support Services at Poway Unified School District, who co-presented with us a poster titled, "Turning Existing Data into Research" (Monday, March 1 from 1:00pm to 2:00pm). As exhibitors, Empirical Education also hosted a 15-minute vendor demonstration entitled Building Local Capacity: Using Your Own Data Systems to Easily Measure Program Effectiveness, to launch our MeasureResults tool.
SIIA
The Software & Information Industry Association held their 2010 Ed Tech Government Forum in Washington, DC on March 3–4. The focus this year was on Education Funding & Programs in a (Post) Stimulus World and included speakers, such as Secretary of Education, Arne Duncan and West Virginia Superintendent of Schools, Steven Paine.
SREE
Just as the SIIA Forum came to a close, the Society for Research on Educational Effectiveness held their annual conference—Research Into Practice—March 4-6 where our chief scientist, Andrew Jaciw, and research scientist, Xiaohui Zheng, presented their poster on estimating long-term program impacts when the control group joins treatment in the short-term. Dr. Jaciw was also named on a paper presentation with Rob Olsen of Abt Associates.
Thursday March 4, 2010
3:30pm–5:00pm: Session 2
2E. Research Methodology
Examining State Assessments
Forum
Chair: Jane Hannaway, The Urban Institute
Using State Or Study-Administered Achievement Tests in Impact Evaluations
Rob Olsen and Fatih Unlu, Abt Associates and Andrew Jaciw, Empirical Education
Friday March 5, 2010
5:00pm–7:00pm: Poster Session
Poster Session: Research Methodology
Estimating Long-Term Program Impacts When the Control Group Joins Treatment in the Short-Term: A Theoretical and Empirical Study of the Tradeoffs Between Extra- and Quasi-Experimental Estimates
Andrew Jaciw, Boya Ma, and Qingfeng Zhao, Empirical Education
View abstract
NCES-MIS
The 23rd Annual Management Information Systems (MIS) Conference was held in Phoenix, Arizona March 3-5. Co-sponsored by the Arizona Department of Education and the U.S. Department of Education's National Center for Education Statistics (NCES), the MIS Conference brings together the people who work with information collection, management, transmittal, and reporting in school districts and state education agencies. The majority of the sessions focused on data use, data standards, statewide data systems, and data quality. For more information, refer to the program highlights.
AERA
We will have a strong showing at the American Educational Research Association annual conference in Denver, Colorado from Friday, April 30 through Tuesday, May 4. Please come talk to us at our poster and paper sessions. View our AERA presentation schedule to find out which of our presentations you would like to attend. And we hope to see you at our customary stylish reception Sunday evening, May 2 from 6 to 8:30—mark your calendars!
IES
We will be presenting at the IES Research Conference in National Harbor, MD from June 28-30. View our poster here.