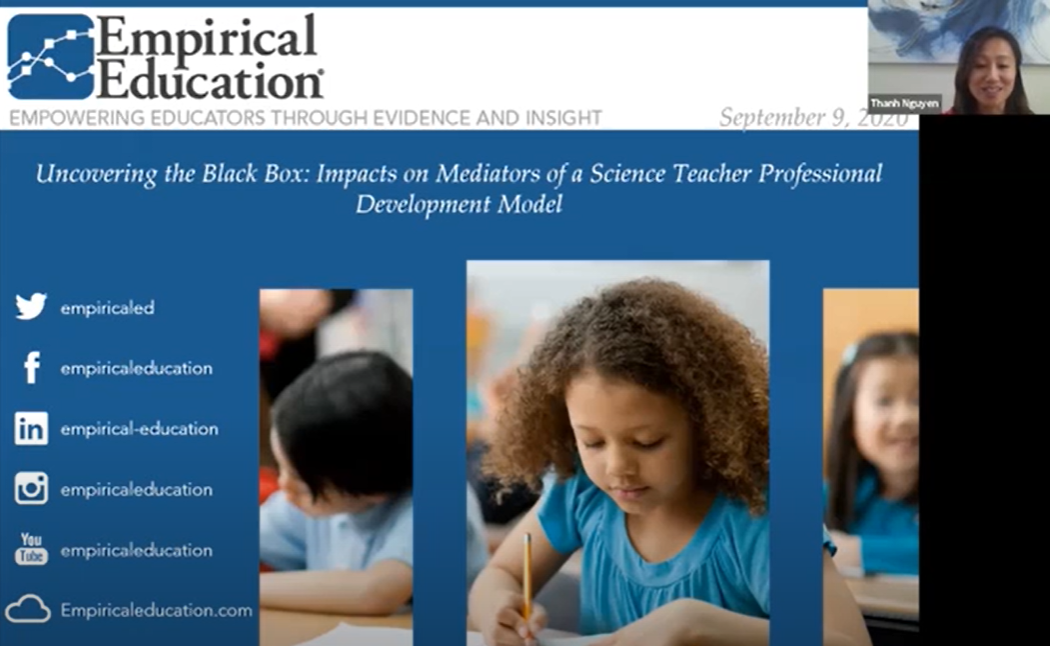 We, like many of you, were excited to travel to Washington DC in March 2020 to present at the annual conference of the Society for Research on Educational Effectiveness (SREE). This would have been our 15th year attending or presenting at the SREE conference! We had been looking forward to learning from a variety of sessions and to sharing our own work with the SREE community, so imagine our disappointment when the conference was cancelled (rightfully) in response to the pandemic. Thankfully, SREE offered presenters the option to share their work virtually, and we are excited to have taken part in this opportunity!
Among the several accepted conference proposals, we decided to host the symposium on Social and Emotional Learning in Educational Settings & Academic Learning because it incorporated several of our major projects—three evaluations funded by the Department of Education's i3/EIR program—two of which focus on teacher professional development and one that focuses on content enhancement routines and student content knowledge. We were joined by Katie Lass who presented on another i3/EIR evaluation conducted by the Policy & Research Group and by Anne Wolf, from Abt Associates, who served as the discussant. The presentations focused on unpacking the logic model for each of the respective programs and collectively, we tried to uncover common threads and lessons learned across the four i3/EIR evaluations.
We were happy to have a turnout that was more than we had hoped for and a rich discussion about the topic. The recording of our virtual symposium is now available here. Below are materials from each presentation.
We look forward to next year!
9A. Unpacking the Logic Model: A Discussion of Mediators and Antecedents of Educational Outcomes from the Investing in Innovation (i3) Program
Symposium: September 9, 1:00-2:00 PM EDT
Section: Social and Emotional Learning in Educational Settings & Academic Learning in Education Settings
Organizer: Katie Lass, Policy & Research Group
Impact on Antecedents of Student Dropout in a Cross-Age Peer Mentoring Program
Katie Lass, Policy & Research Group*; Sarah Walsh, Policy & Research Group; Eric Jenner, Policy & Research Group; and Sherry Barr, Center for Supportive Schools
Supporting Content-Area Learning in Biology and U.S. History: A Randomized Control Trial of Enhanced Units in California and Virginia
Hannah D'Apice, Empirical Education*; Adam Schellinger, Empirical Education; Jenna Zacamy, Empirical Education; Xin Wei, SRI International; and Andrew P. Jaciw, Empirical Education
The Role of Socioemotional Learning in Teacher Induction: A Longitudinal Study of the CREATE Teacher Residency Program
Audra Wingard, Empirical Education*; Andrew P. Jaciw, Empirical Education; Jenna Zacamy, Empirical Education
Uncovering the Black Box: Exploratory Mediation Analysis for a Science Teacher Professional Development Program
Thanh Nguyen, Empirical Education*; Andrew P. Jaciw, Empirical Education; and Jenna Zacamy, Empirical Education
Discussant: Anne Wolf, Abt Associates