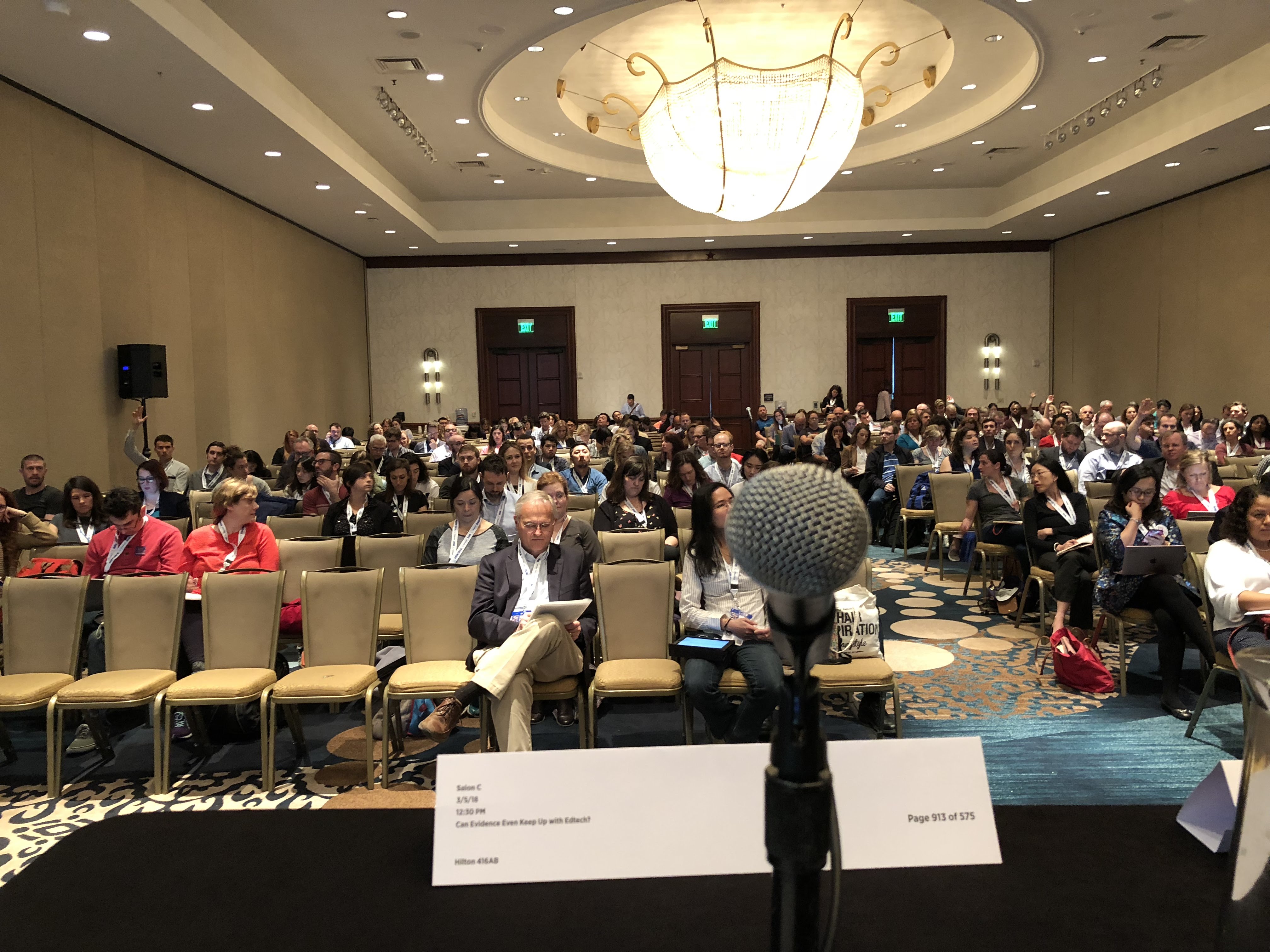 It's been a busy month for Empirical CEO Denis Newman, who's been in absentia at our Palo Alto office as he jet-sets around the country to spread the good word of rigorous evidence in education research.
His first stop was Washington, DC and the conference of the Society for Research on Educational Effectiveness (SREE). This was an opportunity to get together with collaborators, as well as plot proposal writing, blog postings, webinars, and revisions to our research guidelines for edtech impact studies. Andrew Jaciw, Empirical's Chief Scientist, kept up the company's methodological reputation with a paper presentation on "Leveraging Fidelity Data to Make Sense of Impact Results." For Denis, a highlight was dinner with Peg Griffin, a longtime friend and his co-author on The Construction Zone. Then it was on to Austin, TX, for a very different kind of meeting—more of a festival, really.
At this year's SXSWEDU, Denis was one of three speakers on the panel, "Can Evidence Even Keep Up with Edtech?" The problem presented by the panel was that edtech, as a rapidly moving field, seems to be outpacing the rate of research that stakeholders may want to use to evaluate these products. How, then, could education stakeholders make informed decisions about whether to use edtech products?
According to Denis, the most important thing is for a district to have enough information to know whether a given edtech product may or may not work for that district's unique population and context. Therefore, researchers may need to adapt their methods both to be able to differentiate a product's impact between subgroups, as well as to meet the faster timelines of edtech product development. Empirical's own solution to this quandry, Evidence as a ServiceTM, offers quick-turnaround research reports that can examine impact and outcomes for specific student subgroups, with methodology that is flexible but rigorous enough to meet ESSA standards.
Denis praised the panel, stating, "In the festival's spirit of invention, our moderator, Mitch Weisberg, masterfully engaged the audience from the beginning to pose the questions for the panel. Great questions, too. I got to cover all of my prepared talking points!"
You can read more coverage of our SXSWEDU panel on EdSurge.
After the panel, a string of meetings and parties kept the energy high and continued to show the growing interest in efficacy. The ISTE meetup was particularly important following this theme. The concern raised by the ISTE leadership and its members—which are school-based technology users—was that traditional research doesn't tell the practitioners whether a product is likely to work in their school, given its resources and student demographics. Users are faced with hundreds of choices in any product category and have little information for narrowing down the choice to a few that are worth piloting.
Following SXSWEDU, it was back to DC for the Consortium for School Networking (CoSN) conference. Denis participated in the annual Feedback Forum hosted by CoSN and the Software & Information Industry Association (SIIA), where SIIA—representing edtech developers—looked for feedback from the CIOs and other school district leaders. This year, SIIA was looking for feedback that would help the Empirical team improve the edtech research guidelines, which are sponsored by SIIA's Education Technology Industry Network (ETIN). Linda Winter moderated and ran the session like a focus group, asking questions such as:
What data do you need from products to gauge engagement?
How can the relationship of engagement and achievement indicate that a product is working?
What is the role of pilots in measuring success?
And before a pilot decision is made, what do CoSN members need to know about edtech products to decide if they are likely to work?
The CoSN members were brutally honest, pointing out that as the leaders responsible for the infrastructure, they were concerned with implementability, bandwidth requirements, and standards such as single sign-on. Whether the software improved learning was secondary—if teachers couldn't get the program to work, it hardly mattered how effective it may be in other districts.
Now, Denis is preparing for the rest of the spring conference season. Next stop will be New York City and the American Education Research Association (AERA) conference, which attracts over 20,000 researchers annually. The Empirical team will be presenting four studies, as well as co-hosting a cocktail reception with AERA's school research division. Then, it's back on the plane for ASU-GSV in San Diego.
For more information about Evidence as a Service, the edtech research guidelines, or to invite Denis to speak at your event, please email rmeans@empiricaleducation.com