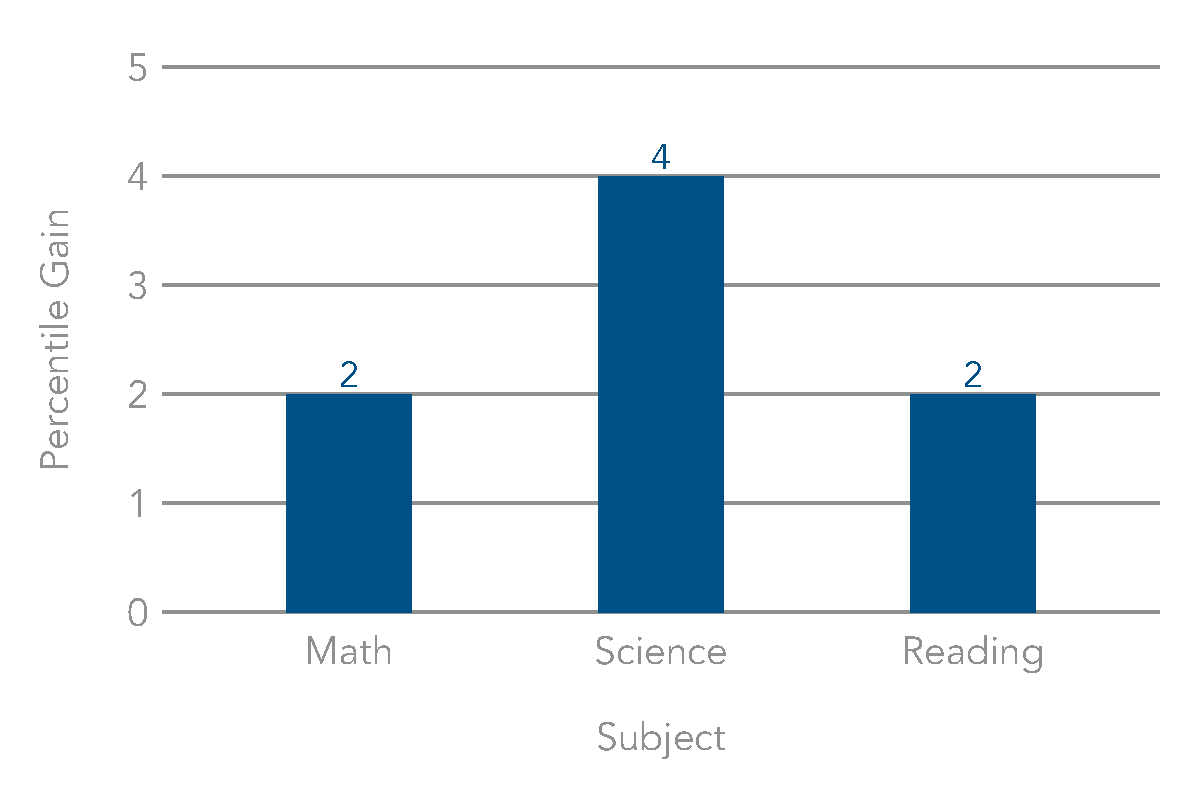 We are excited to release the findings of a new round of work conducted to continue our investigation of AMSTI. Alabama's specialized training program for math and science teachers began over 20 years ago and now reaches over 900 schools across the state. As the program is constantly evolving to meet the demands of new standards and new assessment systems, the AMSTI team and the Alabama State Department of Education continue to support research to evaluate the program's impact. Our new report builds on the work undertaken last year to answer three new research questions.
What is the impact of AMSTI on reading achievement? We found a positive impact of AMSTI for students on the ACT Aspire reading assessment equivalent to 2 percentile points. This replicates a finding from our earlier 2012 study. This analysis used students of AMSTI-trained science teachers, as the training purposely integrates reading and writing practices into the science modules.
What is the impact of AMSTI on early-career teachers? We found positive impacts of AMSTI for partially-trained math teachers and fully-trained science teachers. The sample of teachers for this analysis was those in their first three years of teaching, with varying levels of AMSTI training.
How can AMSTI continue program development to better serve ELL students? Our earlier work found a negative impact of AMSTI training for ELL students in science. Building upon these results, we were able to identify a small subset of "model ELL AMSTI schools" where there was both a positive impact of AMSTI on ELL students, and where that impact was larger than any school-level effect on ELL students versus the entire sample. By looking at the site-specific best practices of these schools for supporting ELL students in science and across the board, the AMSTI team can start to incorporate these strategies into the program at large.
All research Empirical Education has conducted on AMSTI can be found on our AMSTI webpage.